Residential Block Management Experts
Horizon Management is a property management company that specialises in block management for residential buildings nationwide.
Horizon was born to have a fresh approach to managing leasehold properties across the UK – we act quickly on repairs, keep the apartment block looking great and provide clear details to leaseholders on where their service charges have been spent.
As well as providing day-to-day management we also advise developers on the design of communal areas, inside & outside, to ensure that the ongoing management of everything relating to the apartment block is as efficient and cost-efficient for leaseholders as well as creating a great place to live for residents for many years to come!
Managing a block of flats requires a professional approach, time and dedication. Combining this with our understanding that all properties are different is key to our management and we believe Horizon Management provides a winning combination to leaseholders, Resident Management Companies and our residents!
What we do
Let's keep it simple, leaseholders pay a service charge to maintain the apartment block and we do the day-to-day maintenance, administration, accounting and legal obligations involved in managing the apartment block.
We provide quality-led residential property maintenance that cares for infrastructure, the environment and the resident's experience. We are committed to giving industry-leading best practice, transparency and exceptional service.
Why Horizon
Horizon Management was born to raise standards in the Block Management Industry, as property investors ourselves we know the frustrations of poor management.
We care about your apartment block and the residents living in it; that's why we provide pro-active maintenance of communal areas, responsible account management, value for money on works carried out and good communication without difficulties in contacting us; we even have a 24 hour helpline.
Our commitment
Whether you're a landlord or resident in the apartment block no one should be confronted with a poorly maintained building, where the communal areas are not clean, the services are out of order for weeks and the bins are constantly overflowing. It's our job to make sure your block runs smoothly.
Safety First
It is vital that we make sure the block is safe. We ensure our developments comply with all applicable legislation including Health and Safety Regulations and Approved Codes of Practice (ACoPs) such as
Fire Risk Assessment and Regulation Inspections
Asbestos Checks
Control of Legionella
Horizon Provides
Telephone helpline, open 24/7, 365 days per year
Buildings Manager acting as your block's dedicated point of contact
Uniformed personnel on site each site carrying out maintenance & cleaning duties
25 Things Every Flat Owner Should Know
Download our free PDF detailing the 25 things that all flat owners should know.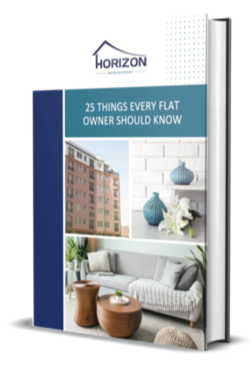 Company Brochure
For more in depth information, download our company brochure.
Menu of Charges
Download our Menu Of Charges for leasehold sales.
"Horizon managed my block since it was built – since they have taken over from the builders the block has been maintained and my tenants say repairs get sorted quickly"
"I've lived in a lot of flats and sometimes you can't get hold of anyone to help when something goes wrong – that's definitely NOT with Horizon!!!"
"As a leaseholder it's always a concern how my block will be managed as it makes such a big difference. My apartment is my pension and its reassuring knowing that they're looking after the block"
Next Steps
If you like what we're about and how we operate get in touch and we'll be happy to put together a competitive and comprehensive price budget.
hello@horizonmanagement.co.uk
We adhere to the strict regulations of the Royal Institution of Chartered Surveyors